EIN Presswire | Newsmatics
Businesses Partner with LinkDaddy for its Remarkable White Label SEO Services
News provided by
EIN Presswire
Mar 19, 2023, 2:22 PM ET
Backlinks & SEO Services You Can Trust!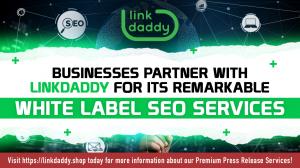 Businesses Partner with LinkDaddy for its Remarkable White Label SEO Services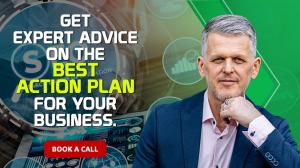 LinkDaddy Helps Businesses and Agencies Rank Higher on Search Engine Searches by Providing Quality SEO Backlinking Services
I would highly recommend Tony (LinkDaddy) to anyone who requires link building and wants to get great results for their clients."
— Paul Robbins
UNITED STATES, March 19, 2023 /
EINPresswire.com
/ -- In the field of digital marketing, leverage is a precious asset. And businesses nowadays are gaining leverage by using search engine optimization (SEO) opportunities. Search engine optimization or SEO is the practice of increasing traffic to a website by optimizing it and making it search engine friendly. To strengthen the position of a client's website for a keyword on the search result pages, business owners must adhere to SEO best practices. Because this digital marketing tactic is a crucial component of a successful digital marketing strategy, businesses and individuals are willing to hire a White Label SEO agency to rank higher in SERPs.
White label SEO is essentially a partnership between two companies in search engine optimization. It is a re-sellable service in which the seller's agency offers SEO services to the clients of the buyer agency under the latter's brand name. These services include keyword and competitor research, backlink building, content distribution, and SEO setup and audit. An SEO agency can provide top-notch SEO services to its clients through white labeling without needing to engage internal staff or perform any work themselves. A
White Label SEO service
provider such as LinkDaddy will work for the customers on behalf of the SEO agency, letting businessmen focus on other vital activities such as client acquisition and finding leads.
Economies of scale are essential in every type of business. By outsourcing SEO services, businesses can focus on their sales growth and consequently experience cost advantages. In addition, they can develop faster by directing their resources towards tasks like website development and advertising instead of working on SEO.
As and when a company gains popularity, it requires more and better-quality links to promote its business. The owners will, therefore, require extra staff to handle their SEO. As a result, the company will have to devote more employees to this duty, limiting its productivity. White-label SEO offers already-established
SEO backlinking service
tactics that can help a firm manage its growth.
Another remarkable aspect of procuring white-label SEO is its potential to provide tailored solutions for any business that services its requirements and niche. First, organizations like LinkDaddy will evaluate the site and compile a report on what works and what does not. Next, the agency will use this report to suggest tactics, improvements, and fixes for flaws. Finally, they will support the company in maintaining essential links of exceptional quality. Consequently, the business can succeed independently and reach heights that would have been difficult to achieve.
"As an boutique local SEO agency in Austin it's important for me to get results for my clients. That is why when I require link building I choose to use LinkDaddy among others. I have been working with Tony since 2016 and have ordered 100's of link building services. Tony is a pleasure to work with, he answers all my questions, he's responsible and delivers his work in a timely manner. I would highly recommend Tony (LinkDaddy) to anyone who requires link building and wants to get great results for their clients."
– Paul Robbins
The needs and demands of each client vary. Thus, the same solution might not be adequate for all of them. However, a white-label SEO company like LinkDaddy can offer specialized services to customers under a company's brand name so they can reap the rewards from those services, ultimately raising client satisfaction.
To deliver results, SEO needs tools, applications, and software. Unfortunately, many of these technologies are expensive, which could strain any project's finances. Partnering with LinkDaddy can help business owners save money and time because LinkDaddy is a white-label digital marketing agency focusing on delivering clients with expert SEO services. As such, they are well-equipped with resources like local SEO backlinking services, citations, business listings, Google authority stacks, Google Maps ranking, etc.
Link-building calls for knowledge and expertise. Using a white-label service provider will guarantee that businesses receive high-quality links. The website will rank higher and draw in more prospective clients for the business if it has quality links. LinkDaddy is a competent and reliable agency offering local
SEO backlinks
linking local identities to the site.
Usually, a startup firm does not have abundant funds or resources to hire an in-house team of SEO experts. This is why it makes total sense for them to engage a white-label SEO agency. Consequently, they can work on their areas of specialization and expand their service selection. In addition, the hired white-label SEO establishment can keep working under the startup's trademarked name and develop it further, creating quality leads.
While startups are recommended the services of white label SEO for budgetary purposes, most well-established businesses invest in it to maintain their position on Google Maps ranking. Google Maps search results for a specific kind of company or service are presented in order of importance and proximity to the user's destination. Therefore, a corporation will appear more prominently in search results and be more likely to draw clients if it ranks higher on Google Maps. Maintaining a rating on the search result pages is challenging because the world of search engines is continually evolving. Yet, a white label SEO company will put up an unceasing effort to ensure that the webpage ranking of their client's clients remains at the top and upholds its position. To reap the endless advantages of SEO best practices for their own business as well as the business of their clients, companies must collaborate with a reputable white label digital marketing specialist like LinkDaddy.
About LinkDaddy
LinkDaddy is a full-scale SEO services provider based out of Miami, Florida. The company provides effective search engine optimization strategies & solutions to create more online engagement for a brand. Whether it is a neighborhood business that wants to feature higher up in the local search results or a startup pursuing a better ranking for its YouTube videos, LinkDaddy provides customized packages for all SEO requirements. The agency offers end-to-end backlinking services that include tier 1 backlinks, do-follow backlinks, Google Stack backlinks, local SEO backlinks, and mass page website backlinks. Business owners can only ask for LinkDaddy's domain power booster services with the confidence of legitimate, white-hat SEO practices. With access to one of the world's biggest niche blog networks, LinkDaddy can boost the relevance of web pages and other digital assets, helping business websites rank higher for different keywords and targeted locations. Customers can always opt for a no-obligation, zero-cost Free Trial to understand the ethical link-building services and the different service packages.
Tony Peacock
LinkDaddy®
+1 305 399 9423
email us here
Visit us on social media:
Facebook
YouTube
Businesses Partner with LinkDaddy for its Remarkable White Label SEO Services
NOTE: This content is not written by or endorsed by "WJET/WFXP", its advertisers, or Nexstar Media Inc.
For inquiries or corrections to Press Releases, please reach out to EIN Presswire.