Looking for some fun things to do this weekend? Look no further than right here in Erie. Here is a list of some great activities that are taking place this weekend!
Erie SeaWolves Baseball
The Erie SeaWolves are home at UPMC Park this weekend to take on the Akron Rubber Ducks. this weekend will consist of three consecutive fireworks nights to celebrate Independence Day weekend. The games on July 1 and 2 will start at 6:35 p.m. The game on July 3 will begin at 6:05 p.m. July 1 is also Star Wars Night. July 3 is Family Fun Day with a special Erie Philharmonic patriotic themed performance during the post-game fireworks. To learn more about these games or to purchase tickets please call 814-456-1300 or visit their website.
Sunday Sesh at Five & 20
Join Five & 20 Spirits and Brewing for a relaxed Sunday afternoon at their winery/distillery/brewery in Westfield, New York, featuring live music by Eliot Road Acoustic Duo. Grab a beer, a new spring cocktail, or a glass of wine to enjoy with food by Alexander's Pop-up. Reservations are not accepted. All service and seating is first come, first served. The max group size is 10, and seating and service best accommodates groups of six or fewer. No outside alcohol or food. Learn more about this event through their website or by calling 716-793-9463.
Downtown Farmers Market
The Erie Downtown Partnership and the Urban Oasis Project have teamed up to organize the Downtown Farmers Market in Perry Square. This market will run 10 a.m. to 2 p.m. every Sunday from June 26 to Sept. 11. Head downtown to experience fresh produce vendors, crafts, makers, flowers, food and beverages, and much more. The Farmers Market Concert Series will feature live music on the stage each week at noon. Yogi Chelsea also will be holding a kid-friendly yoga class each week at 11 a.m. The market will not run on Aug. 21 due to Celebrate Erie. For more information on this market, check out their website.
Arundel Cellars Sunday Concerts
Sunday, July 3– Arundel Cellars will be featuring The Jays while serving pints and pitchers of craft beer, glasses of premium wine, soft drinks and food. This event will run from 1 to 4 p.m. To learn more about this event head to their website, Facebook page, or call 814-725-1079.
LEAF Open Market
This regular market consists of fresh bread and pastries, fruits and vegetables, oils and vinegars, honey, herbs, fresh flowers and plants, coffee and tea. Sometimes the markets also consist of local craft vendors, artists, hard cider, beer, and more, but it is limited to necessities, "grocery shopping outdoors," when Covid-19 is at greater risk. LEAF Open Markets will run biweekly on Saturdays from 10 a.m. to 2 p.m. on the 8th Street side of Frontier Park. To learn more about this market check out their website.
French Creek Brew Fest
Join Riverside Brewing Company on July 2nd for the second annual French Creek Brewfest in the gardens at Riverside Brewing Co, 1 Fountain Street, Cambridge Springs, PA. You won't want to miss this outdoor craft beer festival with all the breweries attending to be announced soon! Two sessions will be held at 11 a.m.- 2 p.m. and 3 p.m. to 6 p.m. with live music from Rick and the Roadhouse Rockers and Salmon Frank. This event offers free Great Lakes/Erie Insurance Sober Bus Rides at Holiday Inn Meadville and Comfort Suites Edinboro which participants can sign up for when they purchase tickets. Regular tickets are $60 and include admission for one session of unlimited tasting, free shuttle (while seating lasts), taster logo glass, pretzel necklace, & live music entertainment. VIP tickets are $75 and include one session of unlimited tasting, free shuttle (while seating lasts), pint logo glass, pretzel necklace, T-shirt (if signed up before June 10th), EXTRA ACCESS Beers, VIP tent snacks & live music entertainment. VIP ticket holders will also have access to the Great Lakes/Erie Insurance VIP Shuttle. Participants must be 21 and over. You can learn more about this event on their website or by calling 814-813-5005.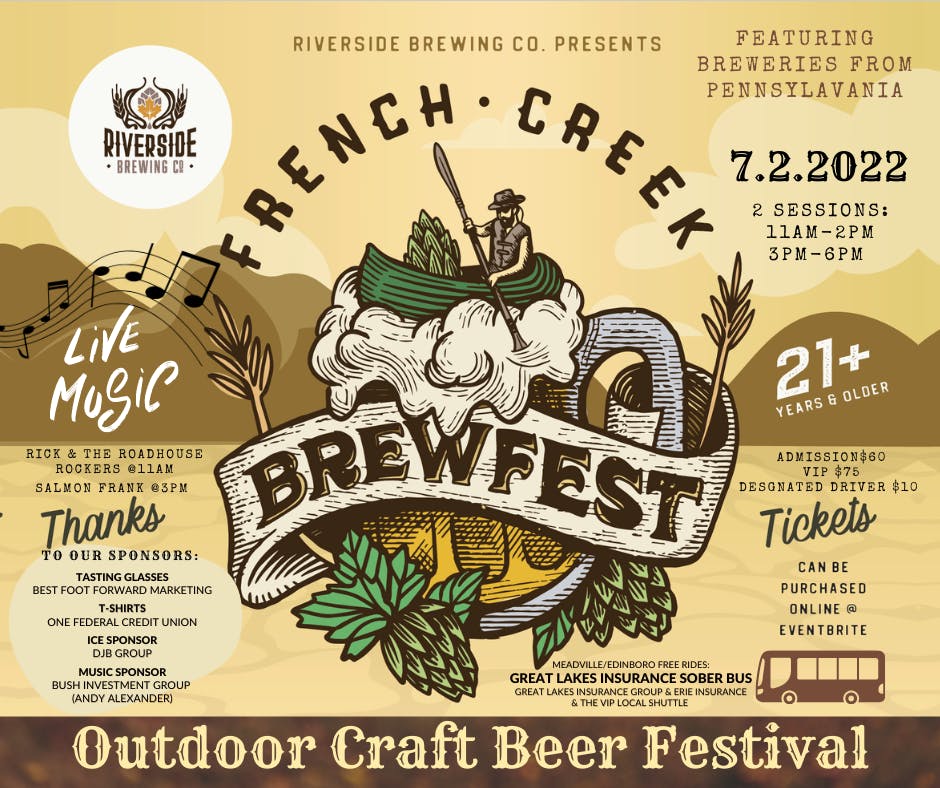 Lights Over Lake Erie
Celebrate Independence Day with fireworks on Erie's historic Bayfront! The City of Erie and Mercyhurst University are proud to continue this tradition with Lights Over Lake Erie on Sunday, July 3, beginning at 10 p.m. The fireworks will be launched from the Bicentennial Tower at Dobbins Landing, and viewable from points along the Bayfront. For more information on this event including parking and the best places to view fireworks, visit their website.
Boro with the Works
Join members of the Edinboro community on Sunday, July 3, for a safe, family-friendly Independence Day celebration. Presented by Rebich Investments, Boro with the Works will kick off at 6 p.m. near Mallory Lake on the Edinboro campus. Festivities will include a patriotic performance by the Concert Band of Northwest Pennsylvania, music by Millennium Sound, a Kids Zone sponsored by Edinboro alumnus Dr. Kenton Andryc of Greater Erie Dental Associates: Edinboro, and a fireworks display at 10 p.m. provided by Flagship Fireworks, LLC. Local food trucks – including The Atacolypse, The Big Cheese, Bro-Man's Sammiches, The Chameleon, Donutology, Food for Thought, Tha Flavor Bucket, JEB's Concessions Frozen Treats, Kona-Ice Erie, RB Concessions & Kettle Corn, Signature Concessions, Smiley's Ice Cream, Sticks and Bricks Wood Fired Pizza, Three B Saloon, A Waffle Miracle and Wooden Nickel Buffalo Farm – will be serving up tasty treats all evening. Additional sponsors include Andover Bank, Boro Beer, Borough of Edinboro, Coldwell Banker Select, Realtors, Comfort Suites, Compadres Mexican Grill, Country Fair, The Crossroads Dinor, Deiss & Halmi Engineering, Edinboro Hotel Bar, Edinboro University, The Empty Keg, Engine House 39, Erie County Gaming Revenue Authority (ECGRA), First National Insurance, Flip Café, Hamilton Insurance Agency, John's Wildwood Pizza, Knox Law Firm, Lakeside Bagel & Deli, McDonald's, Sunview Miniature Golf Course, Tim Hortons, Tim Mannino – Edward Jones Investments and Washington Township. In the event of rain, the fireworks display will take place on the night of July 5. Pre-order the official event T-shirt or donate to this community event. For more information on this event, head to their website.