Many hosts amuse their guests by pouring drinks and mixing cocktails at home. While you don't need to be a professional mixologist to keep things interesting, adventurous entertainers might find the usual shaking, stirring and zesting to have lost its novelty. If you're in search of new ways to entertain thirsty friends, as well as adding some new flavor complexity to old favorites, consider using a cocktail smoker.
In this article: PolyScience Smoking Gun, Boruit Portable Cocktail Smoker and Breville Food Smoking Gun.
What is cocktail smoking?
Cocktail smoking is the infusion of smoke into a beverage. While bourbon and whiskey have long been aged in smoked barrels, the notion of adding your own smoke to any beverage you choose from the convenience of your kitchen is a new, trendy idea.
Cocktail smoker types
Smoking guns are handheld devices. A battery-powered fan carries smoke from the gun's burning chamber into a hose. The hose lets you direct the smoke into a chamber covering your drink or right into the glass.
Glass top smokers offer a more traditional experience. These wooden lids are placed on top of the beverage to be infused. Wood chips are then piled into the lid's burn chamber and set ablaze. Holes in the lid let the resulting smoke seep down into the glass, where it is absorbed into the drink.
Smoking boxes make for the most entertaining preparation. Made of transparent glass, these boxes let you and your guests view the beverage placed inside it as it is enveloped in smoke, typically pumped in using a gun.
What do I need to smoke a beverage?
Aside from a cocktail smoker that suits your style, you need the following items to get the party started:
Torch-style butane lighter. Gas station lighters won't get your wood chips hot enough to produce consistent smoke. Torch-style lighters also let you more accurately aim their flames into the smoker's burn chamber.
Batteries. If you opt for a smoking gun, make sure you have the batteries you need to keep it running.
Wood chips. Have a variety of wood chips available so you can try out different combinations and find your favorites.
Fire extinguisher. Cocktail smoking isn't particularly dangerous, but precautions should be taken any time you're burning indoors.
Experiment with flavors
If smoking drinks with wood chips isn't pushing the envelope enough for you, consider burning the following ingredients in your smoker:
Cinnamon sticks result in sweetness and mild heat. Perfect for entertaining around the holidays.
Corn husks can be used to accentuate the flavors already present in bourbon and other corn-based spirits.
Coffee beans let you blur the lines between bartender and barista and add earthy undertones to your cocktails.
Citrus peels complement the light flavor of Japanese whiskies or vodka.
Vanilla beans add a mellow, velvety sweetness to any drink.
Best cocktail smokers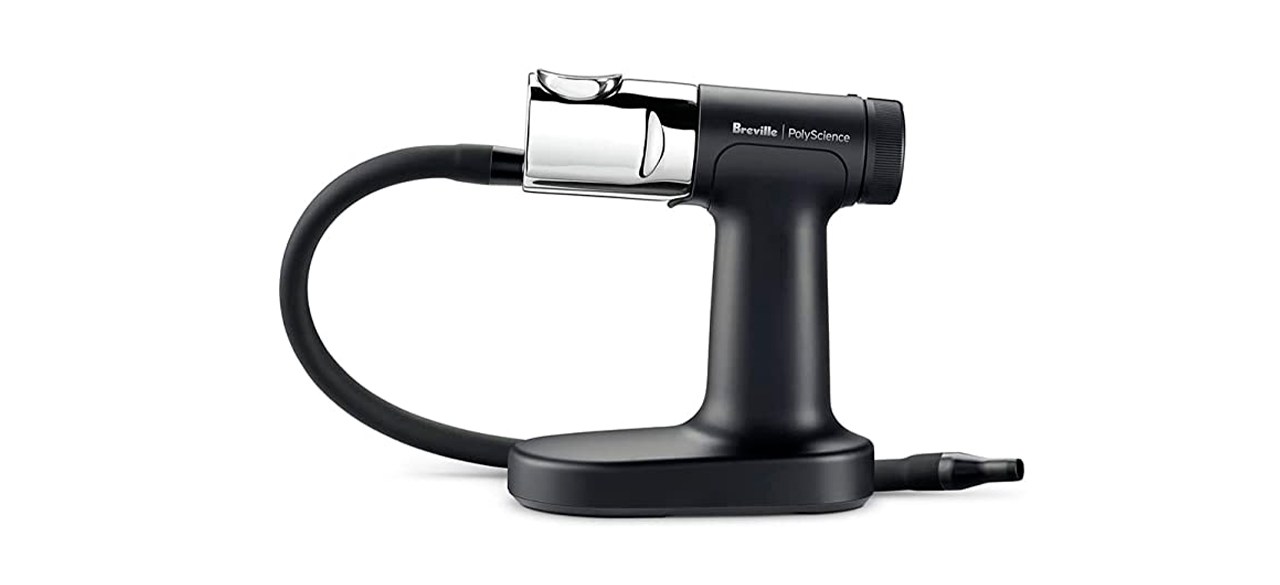 This commercial-grade infuser has an anodized aluminum smoking chamber, a metal fan that won't melt and a dial that you can use to precisely control its smoke output. It runs on four AA batteries and its 17.5-inch hose makes it easy to get the smoke where you need it.
Sold by Amazon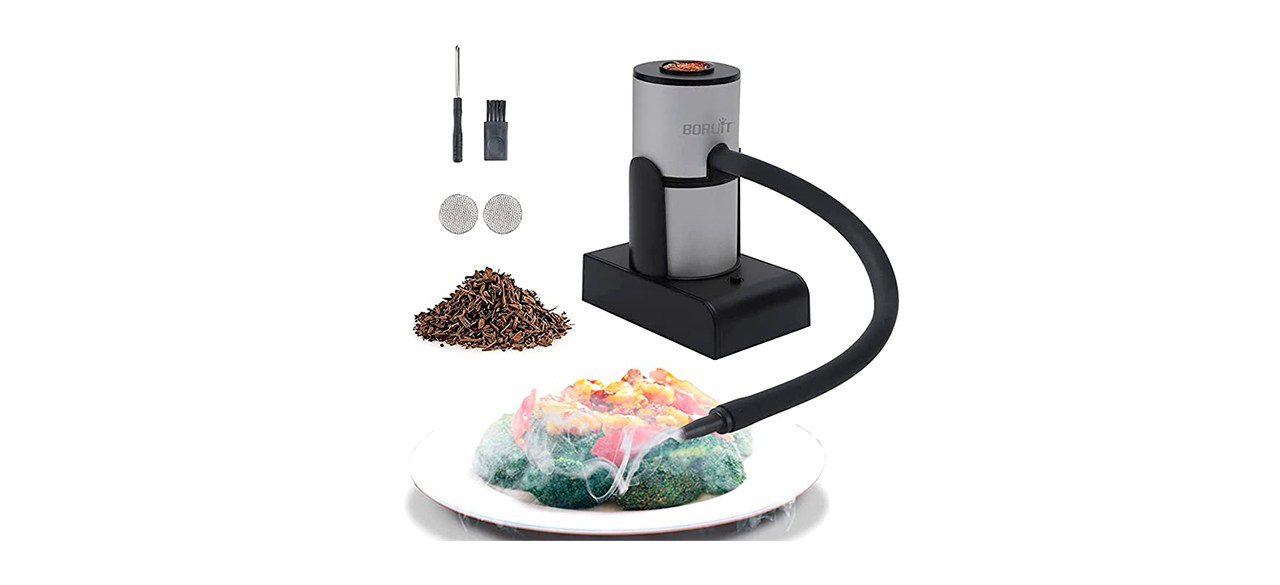 Boruit Portable Cocktail Smoker
With its wide base and upright design, this smoker sits conveniently on your bar or countertop where its flexible hose is within easy reach. It turns on with the press of a single button and runs on two AA batteries.
Sold by Amazon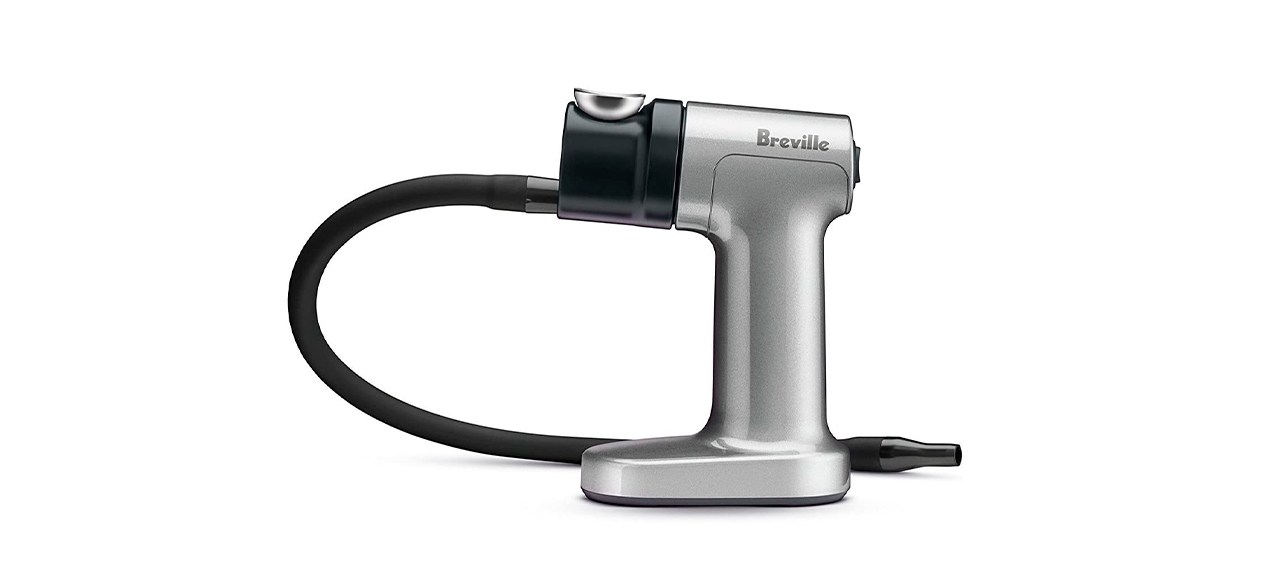 This smoker's removable burn chamber makes it easy to load, clean and maintain. This kit includes apple and hickory wood chips and four AA batteries, giving you everything you need to get started.
Sold by Amazon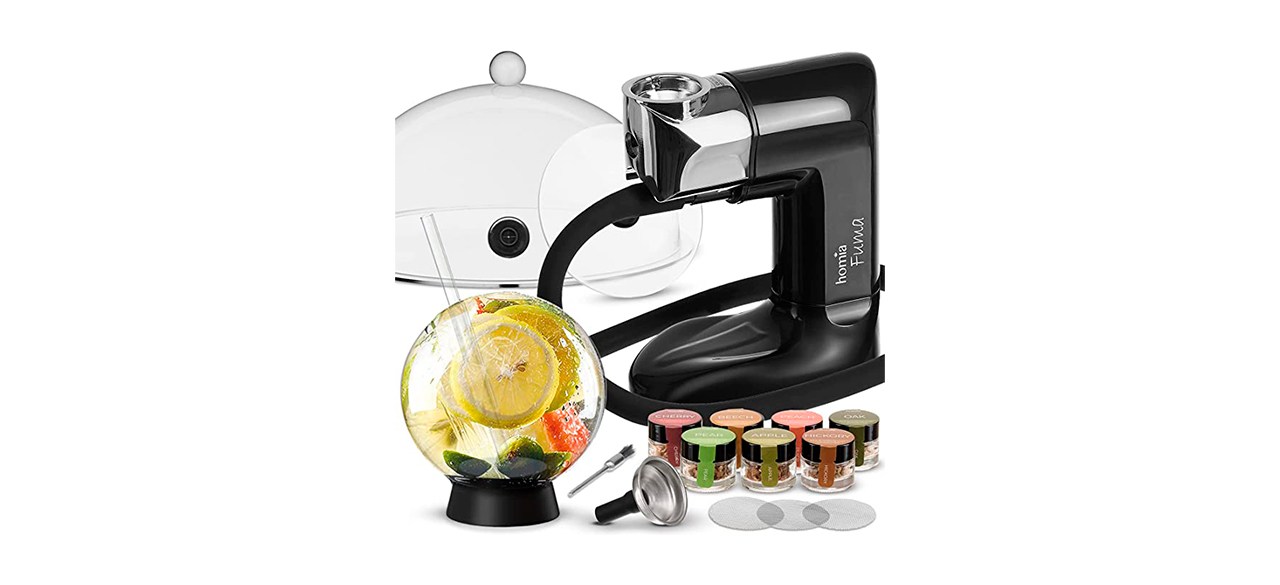 A great value, this set includes a smoker, a smoking lid, a cocktail smoking ball, seven flavors of wood chips, four AA batteries and a cleaning brush. The smoker has two power options, letting you adjust it to your needs.
Sold by Amazon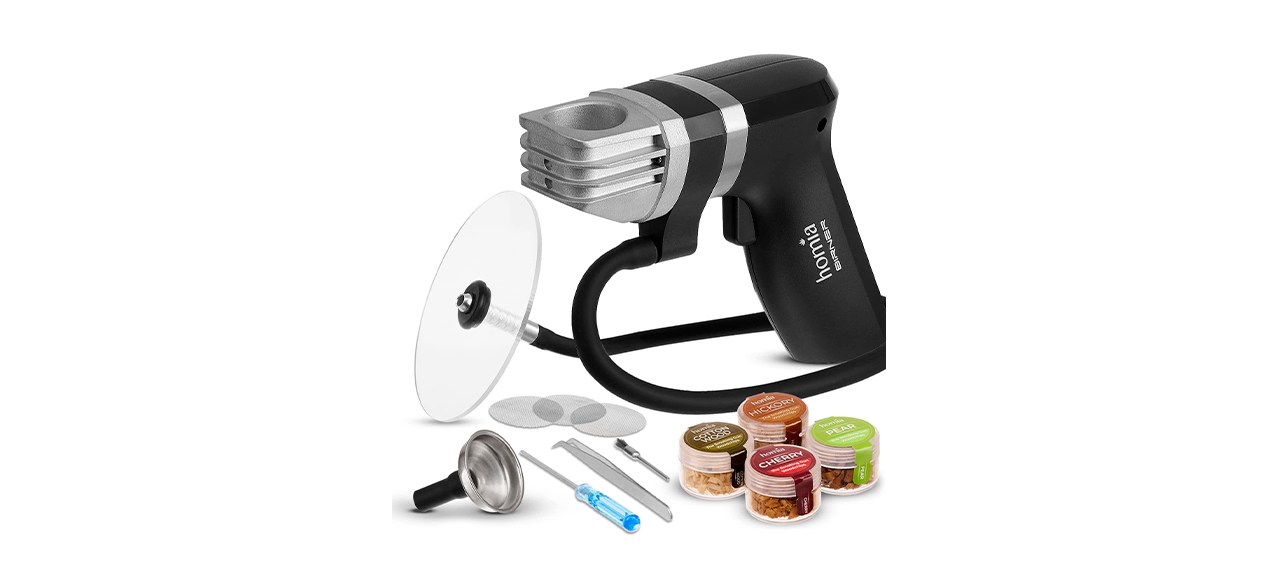 This infuser comes with four wood chip flavors to experiment with, four AA batteries, a cleaning brush and additional accessories. Unlike many kits, it also includes a stand you can use to hold the infuser gun in place while you use its hose to smoke your drinks or food.
Sold by Amazon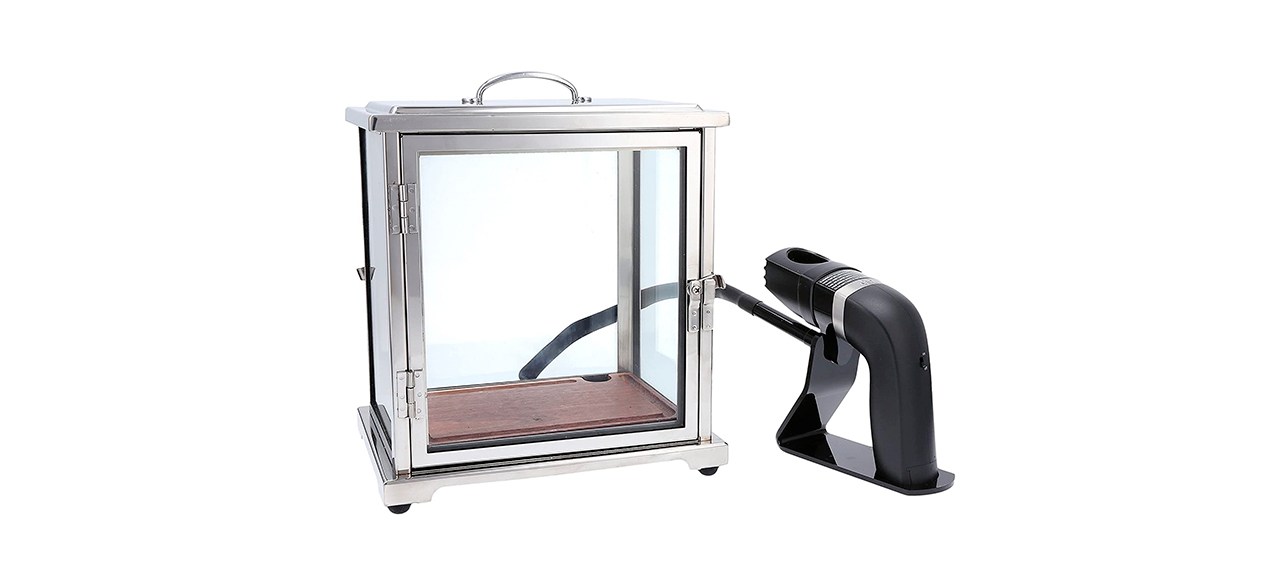 Crafthouse by Fortessa Stainless Steel and Glass Smoking Box
This smoke gun kit includes a stainless steel and glass box you can use to amuse your guests while you infuse their beverages. The box features a black walnut base, making it a classy addition to any bar or man cave.
Sold by Amazon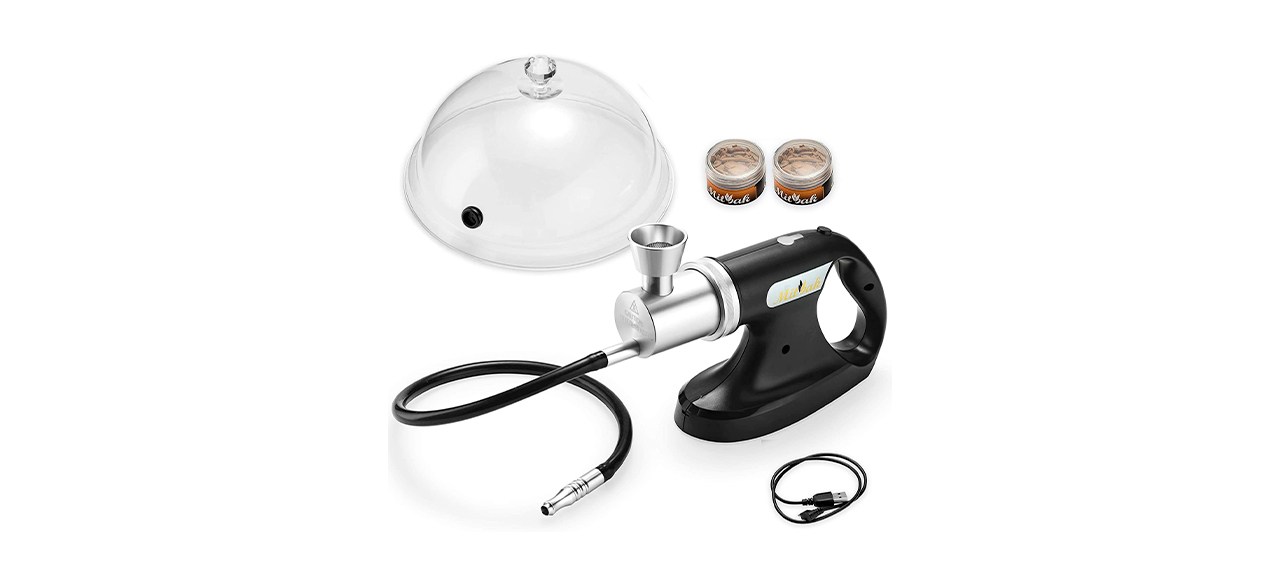 With its included dome and two containers of wood chips, this well-crafted smoker is great for beginners or experienced mixers. A built-in rechargeable battery means you won't ever be out of power when it's time to entertain.
Sold by Amazon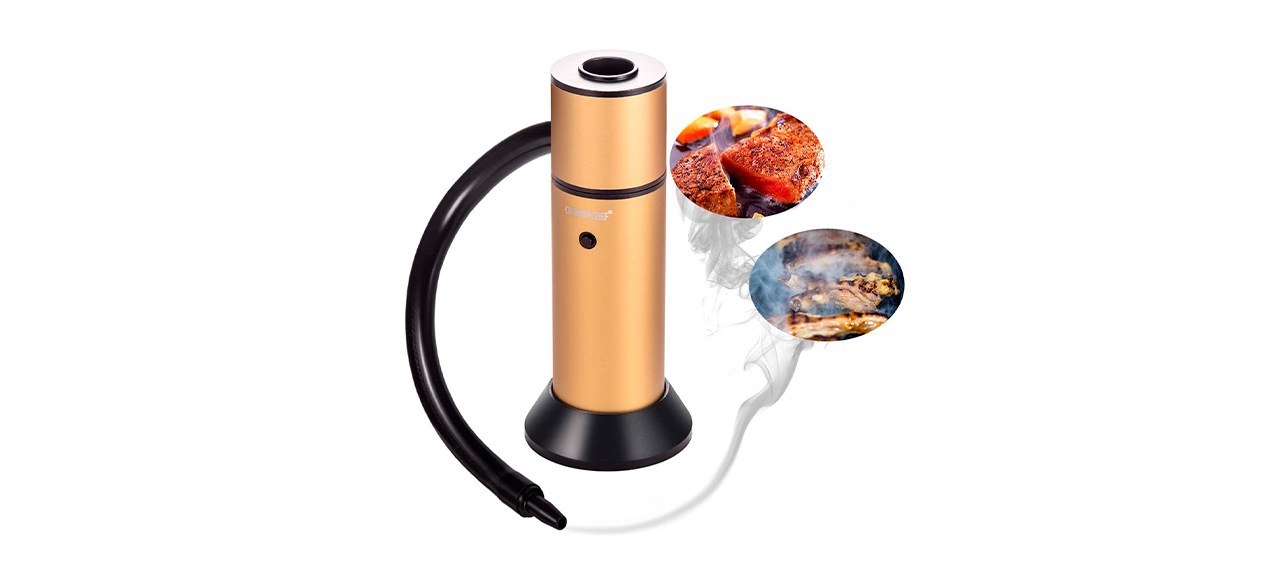 This budget-friendly smoker has a hose nearly 10 inches long and runs off of a pair of AA batteries. It comes in either gold or silver and pressing a single button gets the smoke rolling.
Sold by Amazon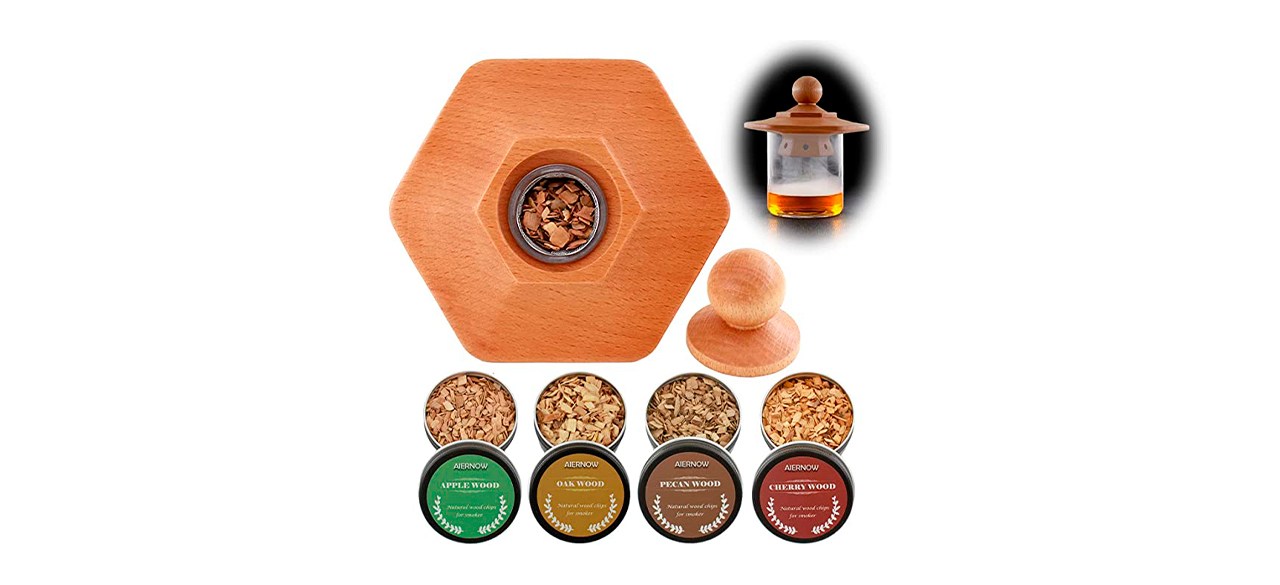 Keep the smoking elegant with this wood infuser that sits atop your drink glass. It comes with four wood chip varieties and is great for traditionalists who prefer to keep the technology out of their mixing technique.
Sold by Amazon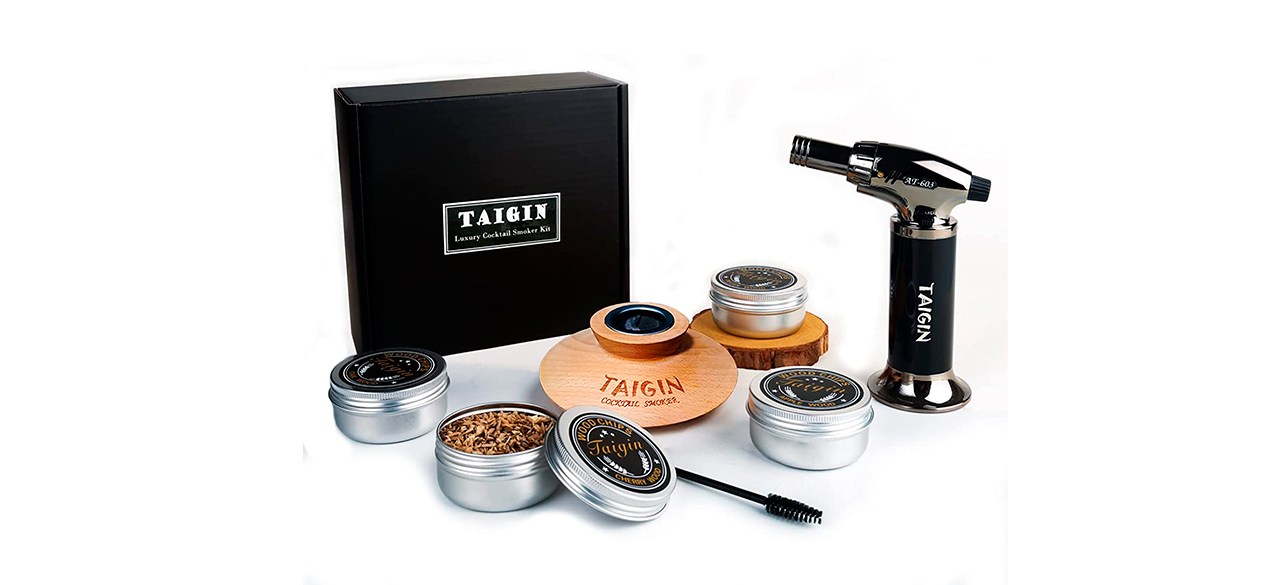 Taigin Cocktail Smoker Kit with Torch
This wooden smoker includes four wood chip flavors, as well as a refillable butane torch. It perches on top of the glass letting you impress your guests while infusing each person's beverage with a flavor of their choice.
Sold by Amazon
Want to shop the best products at the best prices? Check out Daily Deals from BestReviews.
Sign up here to receive the BestReviews weekly newsletter for useful advice on new products and noteworthy deals.
Derek Walborn writes for BestReviews. BestReviews has helped millions of consumers simplify their purchasing decisions, saving them time and money.
BestReviews spends thousands of hours researching, analyzing, and testing products to recommend the best picks for most consumers.
Copyright 2023 BestReviews, a Nexstar company. All rights reserved.