PHILADELPHIA – There was some who thought that this would be the game that would begin the 2023 season – Philadelphia Eagles at Kansas City Chiefs.
Instead, that game went to the Detroit Lions, who beat KC that night and, at 8-2, are right there with the Eagles (8-1) vying to be the NFC's top seed in the playoffs.
It made sense to save Eagles-Chiefs for later in the season. They had just played each other in February, and they have been the two winningest organizations for nearly two years. It didn't happen. It will at Arrowhead Monday night, and the NFL got it right.
Neither team has wilted from their Super Bowl LVII matchup. Neither team is the same from year yet they are the ones winning more consistently than any other team over the past two years.
There's a chance Monday night's could be the highest-rated Monday night game of all time, and why not?
Here are five things to watch for in the titanic matchup:
Julio Jones. The Eagles have to find ways to exploit the middle of the field with Dallas Goedert out. Jones could be in that mix with tight ends such as Albert Okwuegbunam.
Jones had a pivotal touchdown catch in his Eagles debut against the Washington Commanders, but in 19 snaps against the Dallas Cowboys, he wasn't targeted.
"It's a sport of matchups," he said. "I'm ready regardless of however they try to attack us during the game defensively. I'm ready to go."
Cam Jurgens and a healthy Jalen Hurts. The return of the right guard from a five-game stint on injured reserve and Hurts, who indicated the bye week helped his bruised knee feel better, could mean the return of the run game, which has plunged from the best in the NFL to 8th.
"We're not really executing at the level that we have been in the past," said center Jason Kelce. "We're doing some things good. I don't think it's any one player. That's one of the difficult things about the run game. Everybody's really gotta be in sync and hitting blocks.
"If it's one guy here, one guy there, it only takes one guy missing a block to ruin a run play as opposed to you can throw it up to A.J. Brown, and there's a high percentage chance that he'll come down with it. It doesn't matter what anybody else does. To really have a good run game, it's a collective effort – offensive line, running backs, tight ends. We're close."
D'Andre Swift. Obviously, he's a big part of the stuck-in-neutral ground attack. Since running wild early in the season, compiling 175 and 130 yards in back-to-back weeks in Weeks 2 and 3, Swift hasn't gone for more than 70 yards since.
It's time, and, for the Eagles to win, the thinking is that Swift will need to find his way to 80 to 100 yards to steal a win in KC.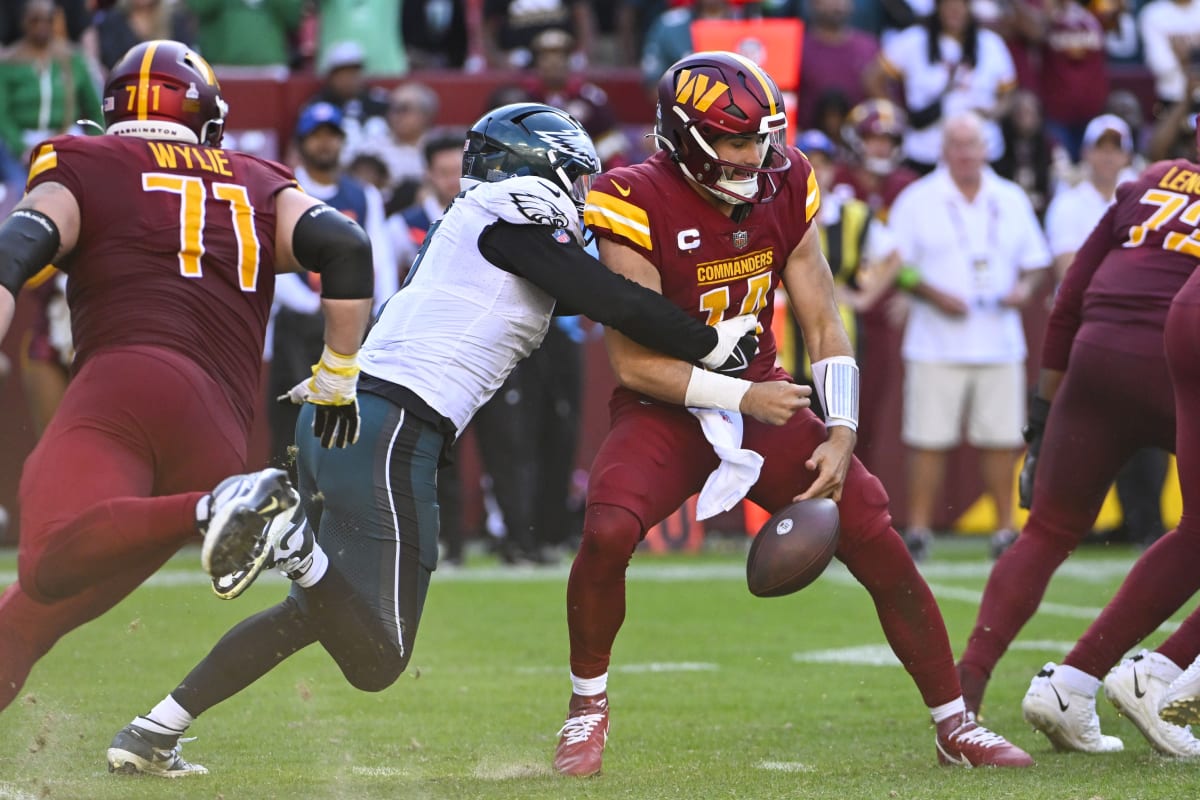 Haason Reddick and Josh Sweat. Let's see how the Chiefs' new offensive tackles bear up against an Eagles pass rush – led by Haason Reddick and Josh Sweat - that was stymied in the Super Bowl and didn't get a single sack despite piling up 70 during the regular season.
Reddick (7.5 sacks) and Sweat (6.5) are one of two pass-rushing duos this season to record at least 6.5 sacks, joining the Chargers' Khalil Mack (9.5) and Joey Bosa (6.5).
The Chiefs' bookend tackles – Andrew Wylie and Orland Brown – have moved on to other teams. Donovan Smith and Jawaan Taylor have replaced them. There hasn't been much drop-off, because Patrick Mahomes has been sacked an incredibly low 12 times, and it's not like he's getting the ball out quickly. He averages 3.02 seconds before delivering a pass.
Turnovers. For two of the league's upper-echelon teams, they haven't done a good job either taking care of the ball or taking it away. The Eagles are at minus-2 in the turnover ratio. The Chiefs are worse at minus-4.
Go figure, but whoever wins this battle will win the game.
PREDICTION: Chiefs 23, Eagles 21.
Season record: 7-2
Related: Eagles Options to Replace Goedert: Julio Jones or Another TE?